Vitamin B-12 can be either animal based or plant based.  Therefore, it is important to know what is the best Vitamin B-12 Supplement to meet your need.  Whether you are a vegan, or a meat lover, you will find your answer here.
Overview of Product
Vitamin B-12 is a very important nutrient for our body.  It is a key energy vitamin, needed for the absorption of carbohydrates. In addition to that, it builds protein, strong red blood cells and healthy nerves.
Company:  Purity Products
Website:  www.purityproducts.com
Founder:  John Levin
Price: $26.95
Sale: $19.95
The Vitamin B-12 produced and sold by Purity Products contains a special component which is an exclusive brand of methylcobalamin known as MecobalActive.  It is an exclusive form of plant-based B-12, which means that it is suitable for everyone, including vegans.
If you are a vegan, it is especially necessary for you to consume B-12 because in most vegetarian diets this active ingredient is missing.
What Makes Purity's B-12 Supplement the Best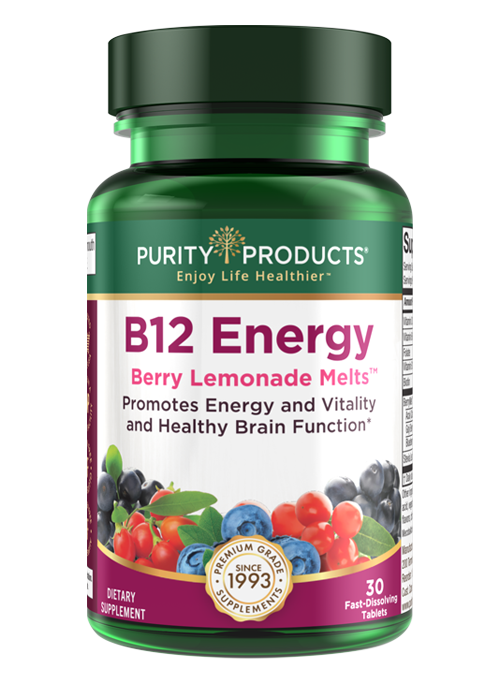 Purity Products boasts that their B-12 Energy BerryMelt™ formula is the ONLY product of its kind in the marketplace.
The special component MecobalActive, is patent-protected.
It contains 1000 grams of B-12.
It is a combination of Vitamin B6, Vitamin D, Folic Acid and Biotin.
The formula has been recently updated, and now includes the super fruits Acai and Goji Berry.
Purity's B-12 Energy BerryMelt is quick to dissolve, is great tasting, and gives us an overall sense of well-being.
"Purity's innovative formula of Vitamins B6, D3, Folic Acid and Biotin work as a nutritional team to help maintain healthy blood cells, strong bones and healthy brain function while supporting cellular energy."
The Research
Research shows that Vitamin B-12 is essential for a wide range of bodily functions, and as we age, our body does not absorb the B-12 from our diet, therefore, it is necessary to assist our body through supplement.  B-12 does the following:
Promotes healthy energy levels
Supports brain health
Promotes normal cell growth and repair
Supports a healthy immune system and
Sustains proper breakdown and digestion of food
What Is MecobalActive
Purity's MecobalActive  is an exclusive form of Vitamin B-12.  B-12 is also known as cobalamin, and MecobalActive is methylcobalamin.  It is produced in a facility in Barcelona, Spain and its unique process is protected by International patents.
MecobalActive is the ingredient that causes these things to happen:
It contributes to a normal function of the immune system
It contributes to normal cell division
It contributes to normal red blood cell formation
It contributes to normal energy metabolism
The Best Thing About Purity's B-12 Supplement
The best thing I like about Purity's B-12 Supplement is its melt-in-your-mouth feature.  There is no need to struggle with swallowing. You can just place it on your tongue and it melts away!  And it tastes good too!  It has a pleasant orange flavor.
It is also small and convenient.
Purity is so sure that you will like this B-12 Supplement they are willing to show you its Certificate of Authenticity.
What Happens If You Are Deficient in B-12 Supplement
If you are deficient in the B-12 supplement, you can find yourself feeling moody, anxious, or depressed.  Thankfully, Purity's B-12 Energy BerryMelt supplies you, not only with B-12, but with B6, and Folic Acid to combat these as well as other symptoms.
I highly recommend B-12 Energy BerryMelt with Super Fruits.
Order Yours today at Purity's website or to obtain more information.
Have you had your B-12 Supplement today?
Stay healthy!
Judy